Most of our suites boast fantastic lake views of Kempenfelt Bay, Lake Simcoe! Take a step back in time as you climb our original staircases to your incredible suite at the Harbour View Inn.
All suites include:
Fully equipped kitchenette (mini-fridge, microwave, coffee maker, toaster, kettle, full set of dishes and sink)
Private washrooms
Pillow-top beds covered in cloud-like duvets
Cable T.V
Complimentary high speed wireless internet access
Phone and messaging systems
Hair dryer
Antique desk and chair
Individual heating and air conditioning controls
Iron and ironing board available upon request
Ample private parking
The Harbour View Inn is a Non-Smoking facility.
Most suites offer one queen-size bed with the option of a twin- or double-sized pullout sofa. Also, some suites have a tub/shower combination, while others offer only showers in the ensuite bathrooms. Please let staff know upon reserving if you require a bathtub for your stay and we will ensure your needs are met.
Our Penthouse Suite, G.A. Radenhurst, showcases a king-sized poster bed in the separate bedroom with LCD Cable TV, an oversized air-jet Jacuzzi tub in the washroom and a large leather couch in the living room that pulls out into a double bed. This 3rd floor suite is absolutely stunning!
The Harbour View Inn is a Non-Smoking facility.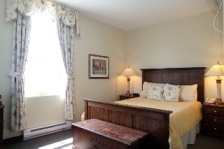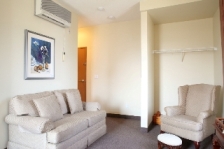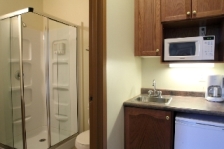 This stunning waterview suite located on the second floor. It has a queen size pillow-top bed, and a cozy loveseat that pulls out into a double bed. The private ensuite bathroom offers a gorgeous glass-surround shower. Maximum room occupancy is 3 people.
Back to top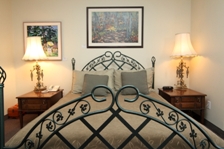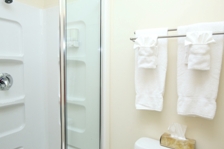 This fabulous waterview suite is located on the second floor, with a large bay-style window. It has a queen size pillow-top bed and a cozy loveseat that pulls out into a twin bed. The private ensuite bathroom offers a gorgeous glass-surround shower in the ensuite bathroom. Maximum room occupancy is 3 people.
Back to top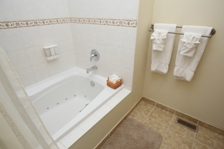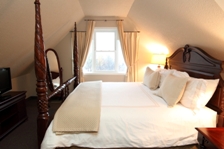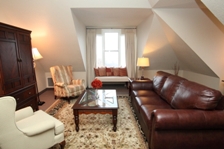 The Harbour View Inn's coveted Penthouse Suite boasts spectacular waterviews from the third floor. The separate bedroom showcases a king sized pillow-top poster bed and LCD TV. The living room offers a great sitting area complete with large leather couch that pulls out into a double bed, and a flat screen TV. The private ensuite bathroom houses an oversized air jet Jacuzzi tub with shower for your enjoyment. The perfect suite for special occasions, or a luxurious night away!
Back to top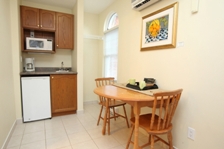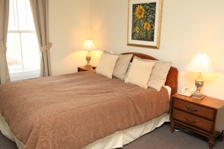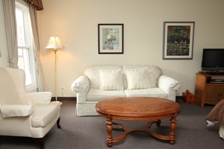 This large executive suite is located on the second floor, and boasts a separate kitchenette area complete with small dining table. It has a queen size pillow-top bed and a cozy sitting area with a sofa that pulls out into a twin bed. The private ensuite bathroom offers a bathtub/shower combination. Maximum room occupancy is 4 people.
Back to top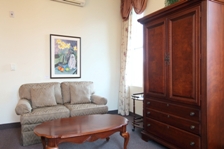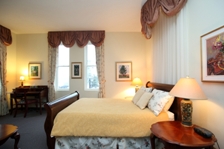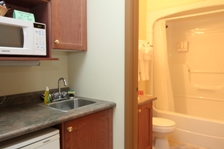 This stunning water view suite is located on the first floor. It has a queen size pillow-top sleigh bed and a cozy loveseat that pulls out into a twin bed. The private ensuite bathroom offers a bathtub/shower combination. Maximum room occupancy is 3 people.
Back to top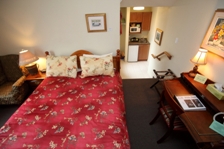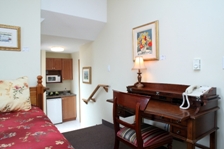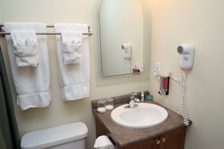 This split-level waterview suite is located on the second floor. It has a queen size pillow-top bed on the main level, and the second level encases the kitchenette and private bathroom with bathtub/shower combination. Maximum room occupancy is 2 people.
Back to top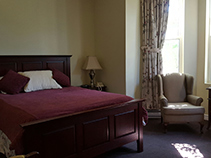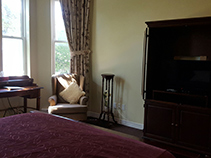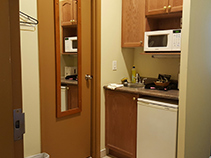 Stunning water view suite, first floor, queen size bed, private bathroom with bathtub/shower combination. Maximum room occupancy is 3 People.
Back to top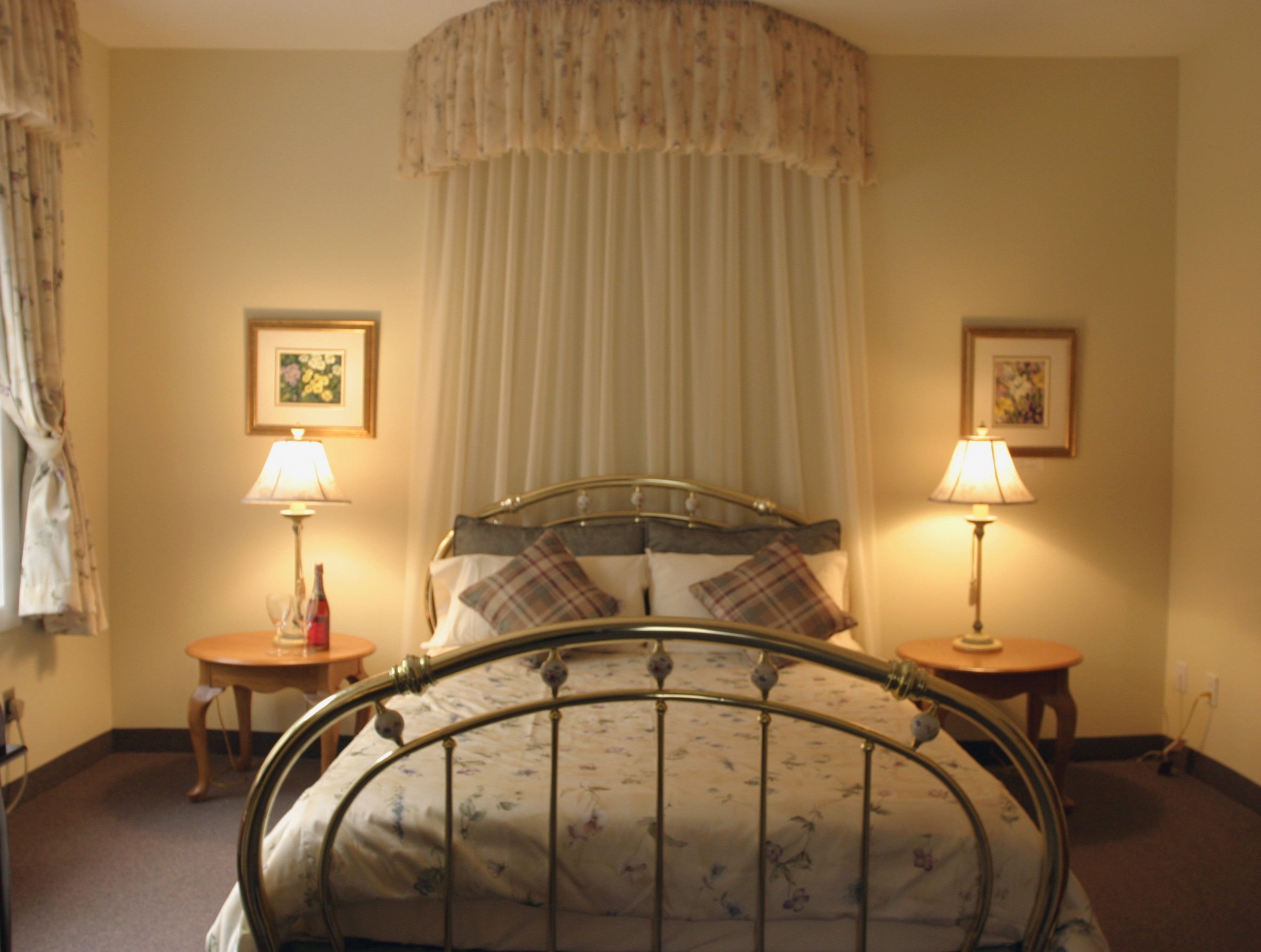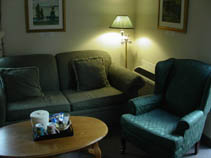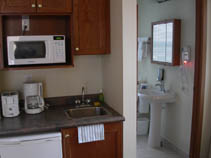 Fabulous garden view suite, first floor, queen size bed and cozy love-seat that pulls out into a twin bed, private bathroom with bathtub/shower combination. Maximum room occupancy is 3 people.
Back to top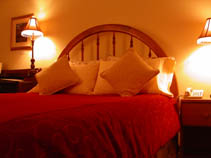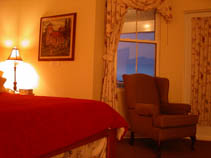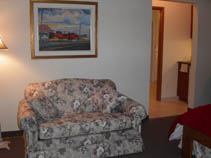 Fabulous water view suite, first floor, wheelchair accessible, queen size bed and cozy love-seat that pulls out into a twin bed, private bathroom with wheelchair shower. Maximum room occupancy is 3 people.
Back to top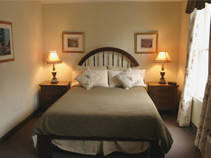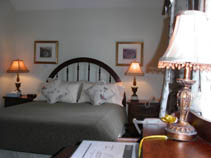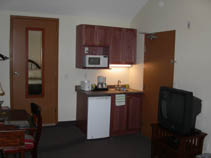 Fabulous garden view suite, second floor, queen size bed, private bathroom with shower.Maximum room occupancy is 2 people.
Back to top